BeRobot_Educational Robot
26/10/16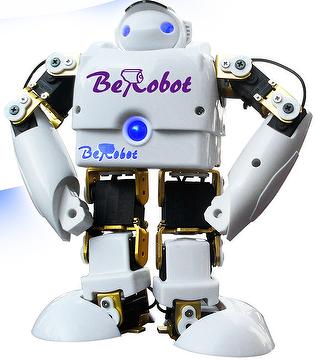 BeRobot_15DOF Humanoid Robot
A more surprising development in sector has come with a number of families now apparently seeing buying a robot as an investment in their child's education. This has stemmed from an increased emphasis on scientific and practical education for young learners across China.
Usually decorated with a cute or cool graphics, the educational BeRobot is designed to help youngsters of different age groups learn diverse programming design languages. At present such devices are available depending on the complexity and design of the individual unit.
The typical robotics course on offer covers such areas as sensors, electronics, mechanics and computer techniques, with computer programming and practical operation also on the syllabus. All these courses have been designed to provide students with a robust technical grounding in the discipline, while also nurturing creativity and innovation among the next generation of developers.
Targeted at a variety of age groups, education in the robotics field is offered with a number of bespoke curriculums. For instance, BeRobot offers elementary, intermediary and advanced tuition to learners. These stages roughly equate to the study of modular, single-chip micro (SCM) BeRobot and humanoid BeRobot. Catering to an even younger group, GeStream offers courses aimed at the 10 to 24-year-old age group.
In line with this, educational BeRobot that give children hands-on experience in system design, as well as programmable educational BeRobot, have found favor among parents looking to give their children a head-start in this competitive sector. A number of educators have gone as far as to characterize the popular open source BeRobot as putting the big world into the small hands of children.
As the learner's abilities grow, students are encouraged to branch out and undertake their own BeRobot projects. Typically, this has involved the construction of miniature smart cars, robotic arms, dinosaur, scorpion or even the assembly of a humanoid robot. Such activities have not only proved attractive to young learners, but have also come as some reassurance to parents concerned that their children are spending too much time playing online games and the like.
In light of the rapid development of the robot-related education, a number of commercial organizations are now offering extended learning opportunities. These include robotics-related overseas study trips, with both summer and winter camps planned by a number of institutions. These will also be timed to coincide with a number of international competitions in the field. After-hours and weekend classes are also being offered by a number of establishments.